The front page of the Magnetic Builder is designed to help user to design magnetic component with least information. In tradition, there can be many engineering rules governing the design of a transformer, but the most simple and sufficient specification for designing a transformer is simply as "I want a transformer used in a 12V@4A Flyback converter with input range from 100V to 200V." An expert system has been built to help user to get a transformer or inductor designed by providing very simple specification.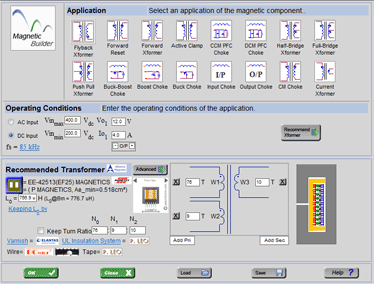 User can firstly select an application of the magnetic component; it can be the main transformer in a Flyback converter, a common mode choke for EMI purpose, a PFC choke, etc. For example user can click the "CCM PFC Choke" in the Application region, the expert system will recommend a toroid to the user.
To give sufficient information to our expert system, user should enter the operating conditions of the application, e.g. input is 200Vdc - 400Vdc and output is 12V 4A. Then click the button "Recommend Xformer", a transformer with winding details will be shown.